State of Delaware Clean Cities
The State of Delaware Clean Cities works with vehicle fleets, fuel providers, community leaders, and other stakeholders to save energy and promote the use of domestic fuels and advanced vehicle technologies in transportation.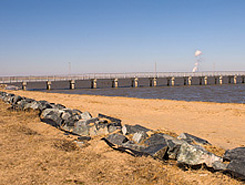 100 W Water St, Ste 5A
Dover, DE 19904

Kathy Harris
Kathy Harris serves as the State of Delaware Clean Cities Coordinator and the Clean Transportation Planner for the Delaware Department of Natural Resources and Environmental Control (DNREC). She manages several programs that help promote alternative fuel vehicles and their supporting infrastructure in Delaware and works to develop policies and initiatives to reduce greenhouse gas emissions in the transportation sector. Harris also serves on several working groups and steering committees to develop regional clean transportation policies and best practices.
Prior to her time at DNREC, Harris was a Research Assistant at the University of Delaware studying offshore wind grid integration and alternative fuel infrastructure deployment. Harris received her Master's Degree in Marine Policy and Bachelor's Degree in Environmental Science from the University of Delaware.
General Stats
Designated: October 12, 1993
Population: 961,939
Area: 2,013 sq. mi.
Boundary: Entire state of Delaware
Alternative Fueling Stations
Including public and private stations
Biodiesel (B20 and above): 1
Natural Gas: 1
Ethanol (E85): 1
Electric: 164
Propane: 9
Energy Use Impact*
Annual Energy Impact
Annual Energy Impact by Alternative Fuel Vehicle Project Type
Emissions Reduced*
Annual Emissions Reduced
Emissions Reduced by Alternative Fuel Vehicle Project Type
*2017 DOE-Verified Metrics
Learn about just some of the projects from State of Delaware Clean Cities. Visit the State of Delaware Clean Cities website for more projects and information.
Videos

Delaware Transit Corporation Adds Propane Buses to Its Fleet

Delaware Reduces Truck Idling With Electrified Parking Areas