State of Delaware Clean Cities
The State of Delaware Clean Cities works with vehicle fleets, fuel providers, community leaders, and other stakeholders to save energy and promote the use of domestic fuels and advanced vehicle technologies in transportation.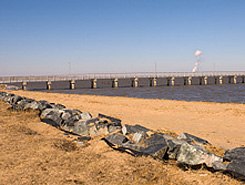 Delaware Department of Natural Resources & Environmental Control
100 W Water St, Ste 10B
Dover, DE 19904

Breanne Preisen
Breanne Preisen is the Clean Cities Director for the state of Delaware, Division of Climate, Coastal and Energy and also serves as the Clean Transportation Project Specialist managing the clean vehicle incentive program. Prior to joining the Division, Breanne has extensive background working in the environmental education, fisheries and land management fields within local government and in the private sector. Breanne holds a bachelor's of science degree in Natural Resources, with a wildlife management concentration from Delaware State University.
General Stats
Designated: October 12, 1993
Population: 1,003,384 (based on 2021 Census estimate)
Area: 1,976 sq. mi.
Local/Regional Service Area: Entire state of Delaware
Alternative Fueling Stations
Including public and private stations

Biodiesel (B20 and above): 0
Electric (charging outlets): 515
Ethanol (E85): 2
Hydrogen: 1
Natural Gas: 2
Propane: 18
Energy Use Impact*
Annual Energy Impact
Annual Energy Impact by Alternative Fuel Vehicle Project Type
Emissions Reduced*
Annual Emissions Reduced
Emissions Reduced by Alternative Fuel Vehicle Project Type
*2021 DOE-Verified Metrics
Learn about just some of the projects from State of Delaware Clean Cities. Visit the State of Delaware Clean Cities website for more projects and information.
Videos

Delaware Transit Corporation Adds Propane Buses to Its Fleet

Delaware Reduces Truck Idling With Electrified Parking Areas