Clean Fuels Ohio
The Clean Fuels Ohio works with vehicle fleets, fuel providers, community leaders, and other stakeholders to save energy and promote the use of domestic fuels and advanced vehicle technologies in transportation.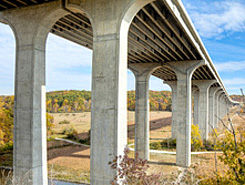 530 W Spring St, Ste 250
Columbus, OH 43215

Sam Spofforth
Sam Spofforth has served as Executive Director of Clean Fuels Ohio since the organization's founding in 2002. Under Spofforth's leadership, Clean Fuels Ohio has become one of the leading Clean Cities coalitions, making a major impact on advanced transportation deployment in Ohio. Spofforth was one of the original inductees to the Clean Cities Hall of Fame. In 2007, he was named the U.S. Department of Energy's national Clean Cities Coordinator of the Year. The DOE selected him as Midwest Clean Cities Coordinator of the Year in 2004. Spofforth serves as President of Transportation Energy Partners, a national non-profit organization that works to increase deployments of advanced transportation technologies and fuels by supporting Clean Cities coalitions and other positive transportation policies. Spofforth holds a Bachelor's degree from Hiram College and a Masters in Public Administration from the University of Pennsylvania.

Andrew Conley
Andrew Conley directs the Ohio Green Fleets program for Clean Fuels Ohio, working to help fleets reduce vehicle emissions and petroleum dependence, helping fleets secure project funding, and designating fleets who are leaders in deploying green technologies and practices. Since he joined the Clean Fuels Ohio staff in November 2008, he has worked to develop both the public policy and Ohio Green Fleets programs for the organization. Conley previously coordinated Corps Development for City Year Columbus, where he was charged with administering programs for AmeriCorps members. Andrew holds dual Bachelor's degrees in History and Comparative Religious Studies from Wright State University.
General Stats
Designated: April 12, 2002
Population: 11,658,609
Area: 44,825 sq. mi.
Boundary: Entire state of Ohio
Alternative Fueling Stations
Including public and private stations
Biodiesel (B20 and above): 15
Natural Gas: 60
Ethanol (E85): 169
Electric: 1095
Propane: 91
Energy Use Impact*
Annual Energy Impact
Annual Energy Impact by Alternative Fuel Vehicle Project Type
Emissions Reduced*
Annual Emissions Reduced
Emissions Reduced by Alternative Fuel Vehicle Project Type
*2017 DOE-Verified Metrics
Learn about just some of the projects from Clean Fuels Ohio. Visit the Clean Fuels Ohio website for more projects and information.
Projects and Case Studies
Videos

quasar energy group Turns Organic Waste into Renewable Energy in Ohio

Cleveland Car Dealership Working Toward a More Sustainable Future

Frito-Lay Delivers With Electric Truck Fleet

Yellow Cab Converts Taxis to Propane in Columbus, Ohio

Alternative Fuel Vehicles Lower Emissions in Columbus, Ohio