Central Oklahoma Clean Cities (Oklahoma City)
The Central Oklahoma Clean Cities (Oklahoma City) works with vehicle fleets, fuel providers, community leaders, and other stakeholders to save energy and promote the use of domestic fuels and advanced vehicle technologies in transportation.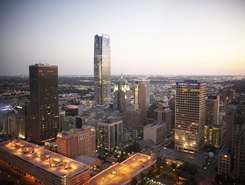 4205 N Lincoln Blvd
Oklahoma City, OK 73105

Eric Pollard
Eric Pollard became Central Oklahoma Clean Cities Coalition Coordinator at the Association of Central Oklahoma Governments (ACOG) in December 2014. Since joining ACOG, he and coalition stakeholders have celebrated several exciting milestones, including: the Coalition's 20th Anniversary in 2016; the State of Oklahoma meeting its goal of opening a public CNG station on every 100 miles of interstate within its borders; Oklahoma City meeting EPA ozone standards; the opening of the first electric vehicle fast charging station at an Oklahoma convenience store; and historic growth in the use of CNG, electricity, propane, and E85.
Pollard manages the activities of the coalition and works to increase the use of alternative fuels and advanced vehicle technologies in Central and Western Oklahoma fleets, support the many Oklahoma businesses and industries that benefit from increased use of these fuels and vehicles, and communicates with the public about benefits to regional air quality.
In 2015 and 2016 Pollard served on the State of Oklahoma Uniform Building Code Commission's Alternative Fuel Committee.
Eric conducts weekly science and engineering experiments with a 5th grade class in OKC and serves on the Arts Council Oklahoma City's Festival of the Arts Go Green Committee which has earned the Festival national recognition for its zero-landfill and alternative transportation efforts.
Prior to joining ACOG, Pollard was Co-Coordinator of the Tulsa Clean Cities Coalition. He previously held positions with the Tulsa Regional Chamber of Commerce and the City of Oklahoma City's Planning Department. Pollard has a Master of Public Administration in Sustainable Management from Presidio Graduate School and a Bachelor of Political Science from the University of Oklahoma.

David Frick
David Frick has served as Air Quality & Clean Cities Planner and Co-Coordinator of the Central Oklahoma Clean Cities Coalition at the Association of Central Oklahoma Governments (ACOG) since June 2022.
David is an urban planner with a focus on transportation. He obtained a supply chain management undergrad degree from TCU and worked in various supply chain management roles for 5 years.
He transitioned his career to urban planning and earned his master's from NYU. He worked with the Metropolitan Transportation Authority on a capstone project team creating a plan to convert a bus depot to support electric buses.
He worked at NYC Department of Transportation in the Freight Mobility Unit focusing on Vision Zero safety initiatives for vulnerable road users and their interactions with trucks. David's most recent experience comes from a road safety nonprofit, Together for Safer Roads (TSR). At TSR he managed the FOCUS on Fleet Safety Program which provided truck safety training, workforce development, and vehicle safety technology to eligible fleets in NYC, Houston, and Fort Collins.
General Stats
Designated: May 29, 1996
Population: 2,015,534 (based on 2020 Census estimate)
Area: 17,242 sq. mi.
Local/Regional Service Area: Counties: Bryan, Canadian, Carter, Cleveland, Comanche, Garfield, Grady, Jackson, Lincoln, Logan, Love, McClain, Oklahoma, Payne, Pontotoc, Pottawatomie, Stephens, Texas, Woodward, City of Oklahoma City
Alternative Fueling Stations
Including public and private stations

Biodiesel (B20 and above): 1
Electric (charging outlets): 559
Ethanol (E85): 48
Hydrogen: 0
Natural Gas: 62
Propane: 46
Energy Use Impact*
Annual Energy Impact
Annual Energy Impact by Alternative Fuel Vehicle Project Type
Emissions Reduced*
Annual Emissions Reduced
Emissions Reduced by Alternative Fuel Vehicle Project Type
*2020 DOE-Verified Metrics