Capitol Clean Cities of Connecticut
The Capitol Clean Cities of Connecticut works with vehicle fleets, fuel providers, community leaders, and other stakeholders to save energy and promote the use of domestic fuels and advanced vehicle technologies in transportation.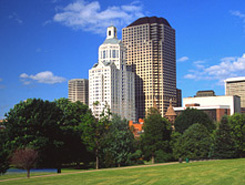 P.O. Box 1253
South Windsor, CT 06074-7253

Craig Peters
Craig Peters became involved with Capitol Clean Cities of Connecticut in 1999 and was elected coordinator/treasurer in 2005 due to his commitment to working with public and private entities to reduce dependency on imported oil.
Peters' responsibilities as coordinator are to offer education and outreach and develop a market for alternative fuel vehicles and infrastructure in the transportation sector. One of his accomplishments as coordinator has been working with Yellow Cab Taxi Service to be the first taxi company in the country to convert to 70 natural gas taxi cabs and 25 hybrid taxi cabs. As treasurer, Peters manages finances and organizes stakeholder meetings for the organization. He continually works with the state of Connecticut, municipalities, and universities to include alternative fuel and hybrid vehicles in their fleets. Peters is involved in organizing and implementing workshops and presentations to municipalities and organizations throughout the state.
Peters received an award from the Connecticut Fund for the Environment for his courageous business leadership on the Clean Cars Campaign.

David Levine
David J. Levine, co-coordinator of Capitol Clean Cities of Connecticut, is the vice-president of R&G Services, LLC, where his responsibilities include overseeing the on-site shuttle transportation system at Bradley International Airport. R&G transports all passengers and airline personnel to and from the airport. David is also vice-president of operations for C&R Development Co., Inc. where he prepares RFQs and RFP for school and correctional facility construction projects.
General Stats
Designated: June 21, 1999
Population: 1,043,618 (based on 2018 Census estimate)
Area: 1,164 sq. mi.
Boundary: Counties: Hartford, Tolland; City of Manchester
Alternative Fueling Stations
Including public and private stations
Biodiesel (B20 and above): 0
Electric (charging outlets): 317
Ethanol (E85): 0
Hydrogen: 0
Natural Gas: 8
Propane: 4
Energy Use Impact*
Annual Energy Impact
Annual Energy Impact by Alternative Fuel Vehicle Project Type
Emissions Reduced*
Annual Emissions Reduced
Emissions Reduced by Alternative Fuel Vehicle Project Type
*2018 DOE-Verified Metrics