Capitol Clean Cities of Connecticut
The Capitol Clean Cities of Connecticut works with vehicle fleets, fuel providers, community leaders, and other stakeholders to save energy and promote the use of domestic fuels and advanced vehicle technologies in transportation.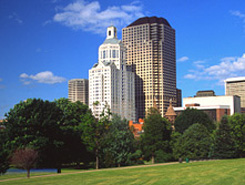 P.O. Box 1253
South Windsor, CT 06074-7253

Craig Peters
Craig Peters brings 22 years of direct Clean Cities service, experience and knowledge. He began with Clean Cities in 1998 and has been the Director since 2005.
Peters was a sales and fleet manager at Manchester Honda for 39 years where he managed a team of 15 sales consultants providing leadership, training and motivation for success. He worked with Corporate Honda directly to develop a market for CNG, Hybrid and EV vehicles in CT. He worked with state fleets in CT, MA and RI and was successful in deploying alternative fuel vehicles in all three states.
Peters acted as Coalition Project Manager to assist in establishing 4 CNG Stations in Hartford County including: Windsor Locks, Hartford, Glastonbury and Wethersfield and over 200 light & medium duty vehicles.
In Connecticut, Peters works collaboratively with state agencies including DEEP, DAS and CT DOT. He was able to assist in creating a green vehicle contract in the State which allowed him to establish relationships with a variety of municipalities.
Peters values the collaboration that takes place among the 3 Connecticut coalitions and works closely with them on a variety of projects, meetings, outreach and educational events. He keeps in touch with his stakeholders understanding the importance of stakeholder meetings to listen to their successes and hurdles. He's readily available to connect a resource, funding opportunity or answer questions that make stakeholders lives easier.

Jane Peters
Jane Peters brings over 20 years of municipal fleet and event management experience coupled with 5 years of administrative management within an equitable justice organization to Capitol Clean Cities of Connecticut, Inc.
Jane joined the Partnership for Strong Communities, an organization dedicated to ending homelessness and expanding equitable affordable housing in October 2016 and acts as their Administrative Director. Responsibilities include management of Human Resources including payroll and benefits, managing a $1 mil+ budget, overseeing all administrative functions, community building, fundraising and development, event planning and management of rental space at the Lyceum.
Jane worked for the Town of Glastonbury over 20 years. She acted as the building and events manager and rental agent for the Riverfront Community Center. Jane managed the Dial A Ride program, the drivers and its fleet of senior/disabled transport vehicles. Jane, together with the Director of Human Services and the Physical Services Operations Manager, was instrumental in supporting and seeing through the conversion of the entire fleet to clean natural gas with a fast fill station on site which led to other departments purchasing natural gas vehicles. This was the 1st of its kind in CT which led other municipalities to consider alternative fuels.
Jane enthusiastically supports clean energy, enjoys working with the public, understands the importance of lifting the voices and needs of equitable justice communities and planning various corporate and private fundraisers and events.
General Stats
Designated: June 21, 1999
Population: 3,605,597 (based on 2021 Census estimate)
Area: 4,971 sq. mi.
Local/Regional Service Area: Counties (including tribal lands): Hartford, Tolland, Windham
Extended Service Area: Statewide. Contact us to connect with the experts, resources, and information you need.
Alternative Fueling Stations
Including public and private stations

Biodiesel (B20 and above): 1
Electric (charging outlets): 2,197
Ethanol (E85): 3
Hydrogen: 0
Natural Gas: 13
Propane: 20
Energy Use Impact*
Annual Energy Impact
Annual Energy Impact by Alternative Fuel Vehicle Project Type
Emissions Reduced*
Annual Emissions Reduced
Emissions Reduced by Alternative Fuel Vehicle Project Type
*2021 DOE-Verified Metrics
Videos

Connecticut Takes Pride in Alternative Fuels

Solar Energy Powers Natural Gas Refuse Trucks in Connecticut