Louisiana Clean Fuels
The Louisiana Clean Fuels works with vehicle fleets, fuel providers, community leaders, and other stakeholders to save energy and promote the use of domestic fuels and advanced vehicle technologies in transportation.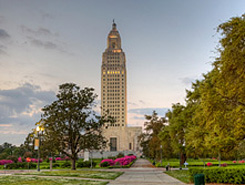 617 N Third St, LaSalle Bldg, 12th Fl
P.O. Box 1771 (70821)
Baton Rouge, LA 70802

Ann Vail
Ann Vail has served as a marketing professional for over 10 years and joined the Louisiana Clean Fuels (LCF) team in the spring of 2012. She has worked successfully across a variety of industries including oil and gas exploration, health-care software, and solar installation and brings many years of event planning, outreach, communications and community organizing experience to LCF.
As LCF Executive Director, Vail is responsible for strategic planning, stakeholder services, education and outreach, public relations, and infrastructure development programs. She is available to assist coalition stakeholders with project development, technical workshop as well as locating funding opportunities and supporting funding proposals.

Tyler Herrmann
Tyler Herrmann is the Co-Coordinator for Louisiana Clean Fuels. He graduated from LSU in 2017 with a BS in Physics with a concentration in Astronomy. He started working for LCF in 2017 as the Project Assistant and was quickly promoted to Project Coordinator, then Co-Coordinator. He is responsible for the Louisiana Clean Fuels Green Fleets Certification Program, emission reduction analysis, Landfill Gas to Compressed Natural Gas Curriculum development, and other various projects and programs.
General Stats
Designated: April 12, 2000
Population: 3,262,436 (based on 2018 Census estimate)
Area: 41,675 sq. mi.
Boundary: Parishes (counties): Acadia, Allen, Ascension, Assumption, Avoyelles, Beauregard, Bienville, Bossier, Caddo, Calcasieu, Caldwell, Cameron, Catahoula, Claiborne, Concordia, DeSoto, East Baton Rouge, East Carroll, East Feliciana, Evangeline, Franklin, Grant, Iberia, Iberville, Jackson, Jefferson Davis, Lafayette Consolidated Government, Lafourche, LaSalle, Lincoln, Livingston, Madison, Morehouse, Natchitoches, Ouachita, Pointe Coupee, Rapides, Red River, Richland, Sabine, St. Helena, St. James, St. Landry, St. Martin, St. Mary, Tensas, Terrebonne, Union, Vermilion, Vernon, Washington, Webster, West Baton Rouge, West Carroll, West Feliciana, Winn
Alternative Fueling Stations
Including public and private stations
Biodiesel (B20 and above): 1
Electric (charging outlets): 160
Ethanol (E85): 13
Hydrogen: 0
Natural Gas: 22
Propane: 40
Energy Use Impact*
Annual Energy Impact
Annual Energy Impact by Alternative Fuel Vehicle Project Type
Emissions Reduced*
Annual Emissions Reduced
Emissions Reduced by Alternative Fuel Vehicle Project Type
*2018 DOE-Verified Metrics
Learn about just some of the projects from Louisiana Clean Fuels. Visit the Louisiana Clean Fuels website for more projects and information.
Projects and Case Studies
Videos

St. Landry Parish Turns Garbage into Renewable Natural Gas

Baton Rouge School District Adds Propane Buses to Its Fleet