Clean Cities-Georgia
The Clean Cities-Georgia works with vehicle fleets, fuel providers, community leaders, and other stakeholders to save energy and promote the use of domestic fuels and advanced vehicle technologies in transportation.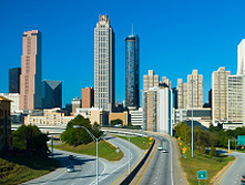 241 Pine St, NE
Atlanta, GA 30308

Stephanie Stuckey
Stephanie Stuckey serves as Director of Sustainability Services for Southface. In that role, she coordinates Southface's municipal organizational, and corporate sustainability efforts to leverage existing and new Southface programs while providing sustainability strategy, consulting, and project management services. Stuckey joined Southface with almost three decades of experience working on climate change, energy, and environment issues, mostly in the government and nonprofit sectors. She has served as Director of Sustainability and Chief Resilience Officer for the City of Atlanta where her accomplishments included overseeing the largest electric vehicle, energy efficiency, and solar programs in the state, starting the country's first urban agriculture program, and running an award-winning "Feet on the Street" recycling initiative. Prior to her work at the City, she ran an environmental nonprofit law firm, GreenLaw, and served for 14 years as a State Representative from parts of Atlanta and DeKalb County, where she served on the Natural Resources Committee.
Stuckey received both her undergraduate and law degrees from the University of Georgia. She was named in 2018 as one of the 100 Most Influential Georgians by Georgia Trend Magazine and one of the top 75 Environmental Leaders in the U.S. by Environmental Leader Magazine. Her legal expertise was recognized in 2011 when she was given the Outstanding Lawyer in Public Service Award by the Atlanta Bar Association. Stuckey serves on the Boards for the Sierra Club Foundation, the Initiative for Affordable Housing, the Greenhouse Accelerator, and the Biophilic Institute. She is on the Advisory Board for EarthShare of Georgia and the Olmsted Linear Parks Association. She is a member of the Leadership Atlanta Class of 2017 and the Institute for Georgia Environmental Leadership Class of 2013.

Don Francis
Although Don Francis became the coordinator for the Georgia Clean Cities coalition in April 2009, he is not new to the program. He attended the ceremony when Atlanta was designated as the first Clean Cities coalition in the nation at the Georgia Dome in 1993. Prior to being elected as the coalition's executive director, Francis served on the board of directors and as the treasurer from 2000 to 2005. He has 40 years of experience in automotive engineering, sales, and marketing activities.
Francis was previously employed by Georgia Power for 31 years, 13 years of which he was assigned to the electric transportation program. His primary responsibility was business unit management for the sale, installation, and service of electric vehicle chargers to internal and external customers. During this time, he served on many local community and industry committees working on electric vehicle infrastructure and market development.
Francis continues to be active in the electric vehicle community. He is a member of the board of directors of the Electric Auto Association and a member of the Society of Automotive Engineers.
General Stats
Designated: September 08, 1993
Population: 10,429,379
Area: 58,820 sq. mi.
Boundary: Entire state of Georgia
Alternative Fueling Stations
Including public and private stations
Biodiesel (B20 and above): 23
Electric (charging outlets): 2627
Ethanol (E85): 55
Hydrogen: 0
Natural Gas: 56
Propane: 91
Energy Use Impact*
Annual Energy Impact
Annual Energy Impact by Alternative Fuel Vehicle Project Type
Emissions Reduced*
Annual Emissions Reduced
Emissions Reduced by Alternative Fuel Vehicle Project Type
*2017 DOE-Verified Metrics
Learn about just some of the projects from Clean Cities-Georgia. Visit the Clean Cities-Georgia website for more projects and information.
Projects and Case Studies
Videos

Coca-Cola Continues to Expand Its Heavy-Duty Hybrid Fleet in Atlanta
Atlanta Airport Converts Shuttles to CNG

Coca-Cola Charges Forward With Hybrid Delivery Trucks