Clean Cities-Georgia
The Clean Cities-Georgia works with vehicle fleets, fuel providers, community leaders, and other stakeholders to save energy and promote the use of domestic fuels and advanced vehicle technologies in transportation.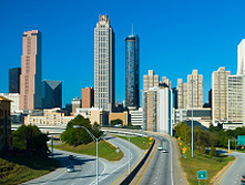 2897 N Druid Hills Rd, Ste 144
Atlanta, GA 30329

Don Francis
Although Don Francis became the coordinator for the Georgia Clean Cities coalition in April 2009, he is not new to the program. He attended the ceremony when Atlanta was designated as the first Clean Cities coalition in the nation at the Georgia Dome in 1993. Prior to being elected as the coalition's executive director, Francis served on the board of directors and as the treasurer from 2000 to 2005. He has 40 years of experience in automotive engineering, sales, and marketing activities.
Francis was previously employed by Georgia Power for 31 years, 13 years of which he was assigned to the electric transportation program. His primary responsibility was business unit management for the sale, installation, and service of electric vehicle chargers to internal and external customers. During this time, he served on many local community and industry committees working on electric vehicle infrastructure and market development.
Francis continues to be active in the electric vehicle community. He is a member of the board of directors of the Electric Auto Association and a member of the Society of Automotive Engineers.

Wendy Morgan
Wendy Morgan was appointed co-coordinator of Clean Cities - Georgia in January 2016 after working with the coalition in various capacities since 1999. Morgan is a Project Manager with the Center for Transportation and the Environment. Her professional experience is largely focused on transportation-related topics including the development and demonstration of advanced transportation technologies, transportation demand management, planning and policy, and public outreach. She holds a bachelor's degree in Politics and Sociology from Wake Forest University and a master's degree in Urban and Regional Planning from Virginia Tech.
General Stats
Designated: September 08, 1993
Population: 10,429,379
Area: 58,820 sq. mi.
Boundary: Entire state of Georgia
Alternative Fueling Stations
Including public and private stations
Biodiesel (B20 and above): 23
Natural Gas: 51
Ethanol (E85): 54
Electric: 2188
Propane: 90
Energy Use Impact*
Annual Energy Impact
Annual Energy Impact by Alternative Fuel Vehicle Project Type
Emissions Reduced*
Annual Emissions Reduced
Emissions Reduced by Alternative Fuel Vehicle Project Type
*2016 DOE-Verified Metrics
Learn about just some of the projects from Clean Cities-Georgia. Visit the Clean Cities-Georgia website for more projects and information.
Projects and Case Studies
Videos

Coca-Cola Continues to Expand Its Heavy-Duty Hybrid Fleet in Atlanta
Atlanta Airport Converts Shuttles to CNG

Coca-Cola Charges Forward With Hybrid Delivery Trucks