Clean Cities-Georgia
The Clean Cities-Georgia works with vehicle fleets, fuel providers, community leaders, and other stakeholders to save energy and promote the use of domestic fuels and advanced vehicle technologies in transportation.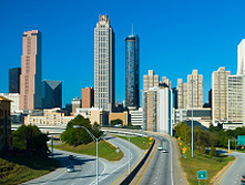 2897 N Druid Hills Rd, Ste 144
Atlanta, GA 30329

Don Francis
Although Don Francis became the coordinator for the Georgia Clean Cities coalition in April 2009, he is not new to the program. He attended the ceremony when Atlanta was designated as the first Clean Cities coalition in the nation at the Georgia Dome in 1993. Prior to being elected as the coalition's executive director, Francis served on the board of directors and as the treasurer from 2000 to 2005. He has 40 years of experience in automotive engineering, sales, and marketing activities.
Francis was previously employed by Georgia Power for 31 years, 13 years of which he was assigned to the electric transportation program. His primary responsibility was business unit management for the sale, installation, and service of electric vehicle chargers to internal and external customers. During this time, he served on many local community and industry committees working on electric vehicle infrastructure and market development.
Francis continues to be active in the electric vehicle community. He is a member of the board of directors of the Electric Auto Association and a member of the Society of Automotive Engineers.

David Dunagan
David Dunagan's career includes several years with the U.S. Forest Service and a stint at Life College in Marietta, Georgia, (including as Alumni Director), as well as nine years in the Clean Cities Southeast Regional Office (which he managed until 2006). He was also a founding member of the Southeast Alternative Fuels Task Force, which focused on interstate refueling infrastructure for alternative fuels.
More recently, Dunagan served on the Board of Directors for Clean Cities Atlanta from 2008 to 2012. During this time, he served as Renewable Energy Program Manager for the State of Georgia's Center of Innovation for Energy, under the Georgia Environmental Facilities Authority (GEFA) before transferring to the Georgia Department of Economic Development to serve as a Statewide Project Manager on an industry team that included renewable energy and forest products. He worked in that role until his retirement in April 2018.
General Stats
Designated: September 08, 1993
Population: 9,992,167
Area: 58,820 sq. mi.
Boundary: Entire state of Georgia
Alternative Fueling Stations
Biodiesel (B20 and above): 23
Natural Gas: 48
Ethanol (E85): 58
Electric: 2021
Propane: 92
Petroleum Savings*
Annual Petroleum Savings
Annual Petroleum Savings by Alternative Fuel Vehicle Project Type
Greenhouse Gas Savings*
Annual Greenhouse Gas Emission Avoided
Greenhouse Gas Emission Reduced by Alternative Fuel Vehicle Project Type
*2015 DOE-Verified Metrics
Learn about just some of the projects from Clean Cities-Georgia. Visit the Clean Cities-Georgia website for more projects and information.
Also see: