Arkansas Clean Cities
The Arkansas Clean Cities works with vehicle fleets, fuel providers, community leaders, and other stakeholders to save energy and promote the use of domestic fuels and advanced vehicle technologies in transportation.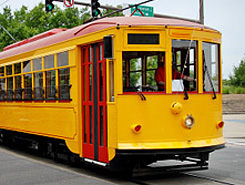 5301 Northshore Dr
North Little Rock, AR 72118

Patti Springs
Patti Springs is no stranger to work in the public service sector. For over five years, she has served as the Energy Efficiency Arkansas (EEA) Facilitator for the Arkansas Department of Environmental Quality - Energy Office. Prior to that, she worked for the Arkansas State Medical Board as a Quality Assurance Coordinator and with Arkansas Economic Development Commission to support program mangers during the American Recovery and Reinvestment Act program administration.
Springs' civic involvement includes, but is not limited to, being a charter member of Arkansas Women in Power, Arkansas's first and only non-profit organization dedicated to educating women and the general public about the benefits of a career in the energy industry, being a member of the Arkansas Association of Energy Engineers and a member of the Arkansas Gas Association, in addition to being a former member of Ditch the Keys, a public awareness program that encourages Arkansans to commit to cleaner air in central Arkansas by using alternate modes of transportation.
Being involved in energy efficiency industry, Springs has a wealth of knowledge to share with homeowners, commercial businesses and local communities regarding the energy industry, utility company rebates and incentives and do-it-yourself tips. Her day-to-day work encourages Arkansans to foster actions of sustainability that can ultimately save them money.
General Stats
Designated: October 25, 1995
Population: 3,004,279
Area: 53,179 sq. mi.
Boundary: Entire state of Arkansas
Alternative Fueling Stations
Including public and private stations
Biodiesel (B20 and above): 3
Electric (charging outlets): 230
Ethanol (E85): 45
Hydrogen: 0
Natural Gas: 17
Propane: 37
Energy Use Impact*
Annual Energy Impact
Annual Energy Impact by Alternative Fuel Vehicle Project Type
Emissions Reduced*
Annual Emissions Reduced
Emissions Reduced by Alternative Fuel Vehicle Project Type
*2017 DOE-Verified Metrics
Learn about just some of the projects from Arkansas Clean Cities. Visit the Arkansas Clean Cities website for more projects and information.
Projects and Case Studies
Videos

Krug Energy Opens Natural Gas Fueling Station in Arkansas

Little Rock Gains Momentum with Natural Gas Buses