Arkansas Clean Cities
The Arkansas Clean Cities works with vehicle fleets, fuel providers, community leaders, and other stakeholders to save energy and promote the use of domestic fuels and advanced vehicle technologies in transportation.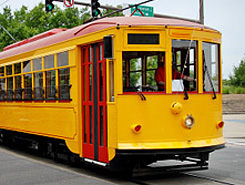 5301 Northshore Dr
North Little Rock, AR 72118
Patti Springs
Patti L. Springs is no stranger to work in the public service sector. For two years, she has served as an Energy Efficiency Arkansas (EEA) Facilitator for the Arkansas Economic Development Commission's (AEDC) Energy Office. Prior to that, she worked for the Arkansas State Medical Board as a Quality Assurance Coordinator and in another capacity with AEDC to support program mangers during the American Recovery and Reinvestment Act program administration.
In her role as the EEA Facilitator, Springs served as support staff for the Arkansas Clean Cities Coalition (ACCC) Coordinator. She has been involved in the planning and execution of events for the ACCC, which include alternative fuel forums, managing and/or assisting with alternative fuel station development and vehicle conversion rebate programs, and has been instrumental in pulling together local dealerships to participate in Ride and Drive events throughout the State of Arkansas. She has also assisted with preparing and presenting the ACCC Redesignation, and preparing the annual and operating reports for ACCC. Springs was appointed co-coordinator of ACCC in May, 2015.
Springs's civic involvement includes, but is not limited to, being a charter member of Arkansas Women in Power, Arkansas's first and only non-profit organization dedicated to educating women and the general public about the benefits of a career in the energy industry, being a member of the Arkansas Association of Energy Engineers, in addition to being a former member of Ditch the Keys Program, a public awareness campaign that encourages Arkansans to commit to cleaner air in Central Arkansas by using alternate modes of transportation. She is also a member of the Saline Green Committee that increases awareness of the importance of reducing Saline County's carbon footprint.

Chet Howland
Andrew "Chet" Howland comes to the Arkansas Energy Office (AEO) as a Program Manager after graduating with a Master's from the Clinton School of Public Service in 2014.
In his work for the AEO, Howland oversees a number of initiatives including the Arkansas Energy Performance Contracting Program for public entities, the AEO's home energy label program for residential customers, and reporting requirements for the state's energy reduction mandate. In 2013, Howland served as a Clean Cities intern through the University Workplace Development Program. Appointed Arkansas Clean Cities Coalition (ACCC) co-coordinator with Patti Springs in May, 2015, he promotes alternative fuel education and awareness throughout the state while also administering conversion and fueling station rebates for alternative vehicles.
Howland is a volunteer with a number of local preservation and anti-poverty organizations and received a B.A. in History from Davidson College in 2010.
General Stats
Designated: October 25, 1995
Population: 2,959,373
Area: 53,179 sq. mi.
Boundary: Entire state of Arkansas
Alternative Fueling Stations
Including public and private stations
Biodiesel (B20 and above): 3
Natural Gas: 15
Ethanol (E85): 43
Electric: 121
Propane: 39
Petroleum Savings*
Annual Petroleum Savings
Annual Petroleum Savings by Alternative Fuel Vehicle Project Type
Greenhouse Gas Savings*
Annual Greenhouse Gas Emission Avoided
Greenhouse Gas Emission Reduced by Alternative Fuel Vehicle Project Type
*2015 DOE-Verified Metrics
Learn about just some of the projects from Arkansas Clean Cities. Visit the Arkansas Clean Cities website for more projects and information.
Also see: