Arkansas Clean Cities
The Arkansas Clean Cities works with vehicle fleets, fuel providers, community leaders, and other stakeholders to save energy and promote the use of domestic fuels and advanced vehicle technologies in transportation.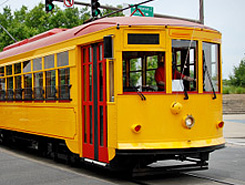 5301 Northshore Dr
North Little Rock, AR 72118

Jason Willey
Jason Willey is a Co-Director of Arkansas Clean Cities which is housed inside the Arkansas Department of Energy & Environment. He joined Arkansas Clean Cities in 2021 and has since been focused on managing the state's Volkswagen Mitigation EV Charger programs, serving on the Arkansas NEVI Project Management Team and stakeholder development for Arkansas Clean Cities. Outside of his Clean Cities responsibilities, he serves as Policy Manager assisting in project management in the Arkansas Energy Office. Prior to Arkansas Clean Cities he was employed for several years in commercial retail real estate.
He is a graduate of the Arkansas School for Mathematics, Sciences and the Arts and Rhodes College.
General Stats
Designated: October 25, 1995
Population: 3,025,891 (based on 2021 Census estimate)
Area: 53,198 sq. mi.
Local/Regional Service Area: Entire state of Arkansas
Alternative Fueling Stations
Including public and private stations

Biodiesel (B20 and above): 34
Electric (charging outlets): 825
Ethanol (E85): 74
Hydrogen: 0
Natural Gas: 14
Propane: 34
Energy Use Impact*
Annual Energy Impact
Annual Energy Impact by Alternative Fuel Vehicle Project Type
Emissions Reduced*
Annual Emissions Reduced
Emissions Reduced by Alternative Fuel Vehicle Project Type
*2021 DOE-Verified Metrics
Learn about just some of the projects from Arkansas Clean Cities. Visit the Arkansas Clean Cities website for more projects and information.
Projects and Case Studies
Videos

Krug Energy Opens Natural Gas Fueling Station in Arkansas

Little Rock Gains Momentum with Natural Gas Buses