Alamo Area Clean Cities (San Antonio)
The Alamo Area Clean Cities (San Antonio) works with vehicle fleets, fuel providers, community leaders, and other stakeholders to save energy and promote the use of domestic fuels and advanced vehicle technologies in transportation.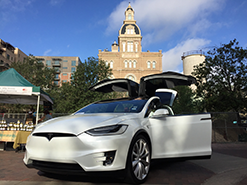 Alamo Area Council of Governments
2700 NE Loop 410, Suite 101
San Antonio, TX 78217

Lyle Hufstetler
Lyle has been working in the air quality field for over seven years. A Texas native, Lyle "retired" from the food service industry and began working at AACOG as an intern in January 2015, while a student at Texas State University. He then graduated in May 2016 with a BS in Geography - Urban and Regional Planning. In addition to urban planning principles, Lyle brought prior formal meteorological education to his new role, which served him well in drafting the 2016 Ozone Conceptual Model, and in developing a Monitoring Network Assessment that led to the deployment of the Government Canyon ozone monitor in 2017. Since then, he has expanded his role from technical work to outreach and education, having taken over as Clean Cities Director in 2019. In this role, Lyle has provided grant application assistance to many air quality partners, engaged with alternative fuel providers to expand alternative fuel corridors, and organized educational demonstrations and events to inform the public and fleet owners about advanced transportation technology
General Stats
Designated: November 10, 1999
Population: 2,715,436 (based on 2021 Census estimate)
Area: 11,428 sq. mi.
Local/Regional Service Area: Counties: Atascosa, Bandera, Bexar, Comal, Frio, Gillespie, Guadalupe, Karnes, Kendall, Kerr, Medina, Wilson; City of San Antonio
Alternative Fueling Stations
Including public and private stations

Biodiesel (B20 and above): 1
Electric (charging outlets): 570
Ethanol (E85): 26
Hydrogen: 0
Natural Gas: 10
Propane: 33
Energy Use Impact*
Annual Energy Impact
Annual Energy Impact by Alternative Fuel Vehicle Project Type
Emissions Reduced*
Annual Emissions Reduced
Emissions Reduced by Alternative Fuel Vehicle Project Type
*2021 DOE-Verified Metrics
Learn about just some of the projects from Alamo Area Clean Cities (San Antonio). Visit the Alamo Area Clean Cities (San Antonio) website for more projects and information.
Projects and Case Studies
Videos

Camp Discovery Helps Kids Build an Electric Dune Buggy

Texas Taxis Go Hybrid

Students Reduce Vehicle Idling in San Antonio, Texas