Alamo Area Clean Cities (San Antonio)
The Alamo Area Clean Cities (San Antonio) works with vehicle fleets, fuel providers, community leaders, and other stakeholders to save energy and promote the use of domestic fuels and advanced vehicle technologies in transportation.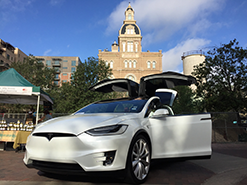 Alamo Area Council of Governments
8700 Tesoro Dr, Ste 160
San Antonio, TX 78217

Lily Lowder
Lily Lowder is the Alamo Area Clean Cities Coordinator and Outreach Specialist for the Alamo Area Council of Governments (AACOG) Natural Resources Department. She is tasked with conducting outreach on behalf of AACOG's Commute Solutions program and the Department of Energy's Clean Cities program.
During her time with Commute Solutions, Lowder cultivated fruitful relationships with local companies and organizations, planned and executed multiple events including Fresh Air Friday and the Walk & Roll Challenge, and maximized the program's public outreach through media coordination, community events, and multiple presentations. After one year of successfully working with the Commute Solutions program, she took on additional responsibilities with the Clean Cities program, including employer outreach, event planning, and technical assistance.
Lowder graduated, with honors, from Texas State University with a Bachelor of Arts degree in Political Science. She sits on committees for the Greater San Antonio Chamber of Commerce, San Antonio Manufacturers Association, and the Alamo Area Metropolitan Planning Organization, among others.
General Stats
Designated: November 10, 1999
Population: 2,386,006
Area: 11,500 sq. mi.
Boundary: Counties: Atascosa, Bandera, Bexar, Comal, Frio, Gillespie, Guadalupe, Karnes, Kendall, Kerr, Medina, Wilson; City of San Antonio
Alternative Fueling Stations
Biodiesel (B20 and above): 4
Natural Gas: 11
Ethanol (E85): 26
Electric: 243
Propane: 43
Petroleum Savings*
Annual Petroleum Savings
Annual Petroleum Savings by Alternative Fuel Vehicle Project Type
Greenhouse Gas Savings*
Annual Greenhouse Gas Emission Avoided
Greenhouse Gas Emission Reduced by Alternative Fuel Vehicle Project Type
*2015 DOE-Verified Metrics