Alabama Clean Fuels Coalition
The Alabama Clean Fuels Coalition works with vehicle fleets, fuel providers, community leaders, and other stakeholders to save energy and promote the use of domestic fuels and advanced vehicle technologies in transportation.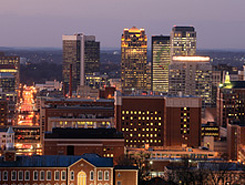 200 Century Park S, Ste 112
Birmingham, AL 35226
Mark Bentley
Mark Bentley has been the executive director of the Alabama Clean Fuels Coalition (ACFC) since August 2006. ACFC is a nonprofit, membership-based, organization that participates in the U. S. Department of Energy's Clean Cities program, which promotes the use of alternative fuels and alternative fuel vehicles throughout the United States. Bentley actively strives to lead efforts to build an alternative fuel industry in Alabama and leverages public-private partnerships to accomplish this goal. Through the efforts of ACFC, ethanol, biodiesel, propane, electric transportation and natural gas infrastructure projects have been implemented in Alabama.
Prior to joining ACFC, Bentley was head of business development for a major engineering firm in Birmingham, Ala. He has more than 50 years of experience in all aspects of business management including marketing, sales, operations, consulting, and entrepreneurial initiatives with both domestic and international companies.
Bentley holds an accelerated bachelor's degree in economics from Babson College in Wellesley, Mass.
General Stats
Designated: October 20, 2009
Population: 4,887,871 (based on 2018 Census estimate)
Area: 51,657 sq. mi.
Boundary: Entire state of Alabama
Alternative Fueling Stations
Including public and private stations
Biodiesel (B20 and above): 10
Electric (charging outlets): 570
Ethanol (E85): 29
Hydrogen: 0
Natural Gas: 30
Propane: 70
Energy Use Impact*
Annual Energy Impact
Annual Energy Impact by Alternative Fuel Vehicle Project Type
Emissions Reduced*
Annual Emissions Reduced
Emissions Reduced by Alternative Fuel Vehicle Project Type
*2018 DOE-Verified Metrics
Learn about just some of the projects from Alabama Clean Fuels Coalition. Visit the Alabama Clean Fuels Coalition website for more projects and information.
Projects and Case Studies
Videos

Propane Powers School Buses in Tuscaloosa, Alabama

Virginia Transportation Corporation Runs Vehicle Haulers in Alabama on Natural Gas

Alabama City Leads With Biodiesel and Ethanol