Press Room
Find photos and videos, background information, and contacts for members of the media to cover news about Clean Cities coalitions.
Photos and Videos
Members of the media may use the following photos. For high-resolution images, click on an image below.
Alternative Fueling Station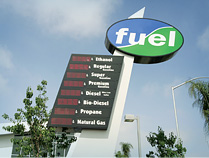 Station Locator Mobile App
All-Electric Vehicle
Biodiesel Truck
Ethanol Vehicle
Hybrid Electric Bus
Propane Bus
Natural Gas Truck
Infrastructure Workshop
For more images of Clean Cities' portfolio of technologies, download free photos from the Image Gallery provided by the National Renewable Energy Laboratory (NREL).
Search the Image Gallery for the term "Clean Cities" to find photos related to Clean Cites and alternative transportation technologies.


Download broadcast- and Web-quality videos and clips from the Clean Cities YouTube channel.
Background Information
See About Clean Cities to learn more about the history, mission, stakeholders, and activities.
Media Contact
Members of the media who have questions about Clean Cities may contact: EE.Media@ee.doe.gov
If you are not a member of the media but would like additional information, find Clean Cities contacts.