Tucson Clean Cities
The Tucson Clean Cities works with vehicle fleets, fuel providers, community leaders, and other stakeholders to save energy and promote the use of domestic fuels and advanced vehicle technologies in transportation.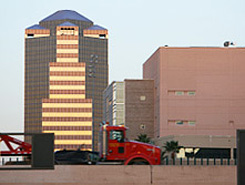 1 East Broadway, Ste 401
Tucson, AZ 85701

Colleen Crowninshield
Colleen Crowninshield has worked for Pima Association of Governments since 1994. In 2001, she assumed the Tucson Clean Cities responsibilities and became the full-time coordinator of the program. She also runs the Solar Partnership in Southern Arizona.
Colleen has made many advances in the Tucson Clean Cities program. She opened the first compressed natural gas, E85, and biodiesel retail stations, and in 2008, her program displaced more than 12 million gallons of petroleum.
In 2005, Crowninshield was named the U.S. Department of Energy Clean Cities Coordinator of the Year.
General Stats
Designated: August 24, 1999
Population: 2,112,492
Area: 60,089 sq. mi.
Boundary: Counties: Apache, Cochise, Gila, Graham, Greenlee, Navajo, Pima, Pinal, Santa Cruz, Yuma; City of Tucson
Alternative Fueling Stations
Including public and private stations
Biodiesel (B20 and above): 3
Electric (charging outlets): 225
Ethanol (E85): 10
Hydrogen: 0
Natural Gas: 7
Propane: 25
Energy Use Impact*
Annual Energy Impact
Annual Energy Impact by Alternative Fuel Vehicle Project Type
Emissions Reduced*
Annual Emissions Reduced
Emissions Reduced by Alternative Fuel Vehicle Project Type
*2017 DOE-Verified Metrics
Learn about just some of the projects from Tucson Clean Cities. Visit the Tucson Clean Cities website for more projects and information.
Projects and Case Studies
Videos

Golden Eagle Delivers Beer With Natural Gas Trucks

Rio Rico Fire District Turns Grease Into Biodiesel

Reynolds Logistics Reduces Fuel Costs With EVs
Biodiesel Truck Transports Capitol Christmas Tree