Rogue Valley Clean Cities
The Rogue Valley Clean Cities works with vehicle fleets, fuel providers, community leaders, and other stakeholders to save energy and promote the use of domestic fuels and advanced vehicle technologies in transportation.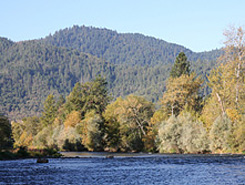 4497 Brownridge Terrace, Ste 101
Medford, OR 97504

Mike Quilty
Mike Quilty served on the Rogue Valley Clean Cities Coalition (RVCCC) Board for three years prior to becoming RVCCC's Fleet Outreach Coordinator in late 2010. He was appointed RVCCC's Coordinator in March of 2013.
Quilty is active in Oregon transportation policy issues. He is currently Chair of the Rogue Valley Metropolitan Planning Organization Policy Committee (2005 to Present), and is a member of the: Oregon Rail Leadership Group, Oregon Metropolitan Planning Organization (Past President), Oregon Freight Advisory Group, Oregon State Transportation Improvement Program Stakeholders Group, West Coast Corridor Coalition, and served two years on the Association of Metropolitan Planning Organization's Technical Advisory Committee.
General Stats
Designated: October 18, 1994
Population: 223,259 (based on 2020 Census estimate)
Area: 2,801 sq. mi.
Local/Regional Service Area: Jackson County
Alternative Fueling Stations
Including public and private stations

Biodiesel (B20 and above): 2
Electric (charging outlets): 96
Ethanol (E85): 0
Hydrogen: 0
Natural Gas: 3
Propane: 2
Energy Use Impact*
Annual Energy Impact
Annual Energy Impact by Alternative Fuel Vehicle Project Type
Emissions Reduced*
Annual Emissions Reduced
Emissions Reduced by Alternative Fuel Vehicle Project Type
*2020 DOE-Verified Metrics
Learn about just some of the projects from Rogue Valley Clean Cities. Visit the Rogue Valley Clean Cities website for more projects and information.
Projects and Case Studies