Norwich Clean Cities
The Norwich Clean Cities works with vehicle fleets, fuel providers, community leaders, and other stakeholders to save energy and promote the use of domestic fuels and advanced vehicle technologies in transportation.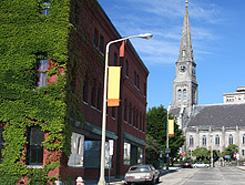 16 S Golden St
Norwich, CT 06360

Jeanne Kurasz
Jeanne Kurasz has worked for Norwich Public Utilities (NPU) since 1997, during which time she has been active in the Norwich Clean Cities Coalition and is responsible for managing the utilities' alternative fuel program. NPU has been the host agency for Norwich Clean Cities since its inception in 1995. Ms. Kurasz assumed the role as Norwich Clean Cities Coordinator in October 2014.
In addition to her Clean Cities role, Ms. Kurasz is responsible for utility public relations, marketing, communications, and community outreach, including social media and web site management. She has extensive experience administering and reporting on various programs and grant awards, including the Connecticut Clean Fuels Program and the recent Congestion Mitigation and Air Quality (CMAQ) Program funding awarded to NPU for the construction of a second Compressed Natural Gas (CNG) Fueling Station and Alt-fuel vehicles.
Ms. Kurasz has a Bachelor Degree from the University of Connecticut and is a member of the Public Relations Society of America and the National Association of Government Communicators. She is active in the community, serving on numerous committees both past and present.
General Stats
Designated: November 22, 1994
Population: 385,392
Area: 1,213 sq. mi.
Boundary: Counties: New London, Windham; City of Norwich
Alternative Fueling Stations
Including public and private stations
Biodiesel (B20 and above): 2
Natural Gas: 4
Ethanol (E85): 2
Electric: 97
Propane: 1
Energy Use Impact*
Annual Energy Impact
Annual Energy Impact by Alternative Fuel Vehicle Project Type
Emissions Reduced*
Annual Emissions Reduced
Emissions Reduced by Alternative Fuel Vehicle Project Type
*2017 DOE-Verified Metrics
Learn about just some of the projects from Norwich Clean Cities. Visit the Norwich Clean Cities website for more projects and information.
Projects and Case Studies