Northern Colorado Clean Cities Coalition
The Northern Colorado Clean Cities Coalition works with vehicle fleets, fuel providers, community leaders, and other stakeholders to save energy and promote the use of domestic fuels and advanced vehicle technologies in transportation.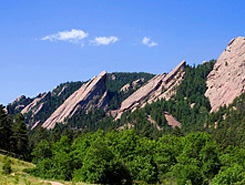 P.O. Box 977
Ft. Collins, CO 80522
Sheble McConnellogue
Sheble McConnellogue, who founded the coalition in 1996, is currently the Executive Director at Northern Colorado Clean Cities (NCCC). Prior to NCCC, she worked as an environmental planner with the Colorado Department of Transportation and Weld County Department of Health and Environment and now has more than 35 years of experience in the sustainable transportation industry. McConnellogue was awarded an electric Toyota RAV4 as one of the top Clean Cities coordinators in the nation. In addition to her transportation background, she has worked on renewable energy, green roof, and other energy efficiency and improvement projects.
Diego Lopez
Diego Lopez joined Northern Colorado Clean Cities as Co-Coordinator in August, 2018. He has 5 years of experience in the energy efficiency industry. Starting as a Clean Cities intern for the Lone Star Clean Fuels Alliance (Central Texas), Lopez grew his passion for electric vehicles and is most proud of organizing the Earth Day Event, which was attended by over 600 students, community members and elected officials in the Austin area, and the National Drive Electric Week Picnic in the Park.
After moving to Colorado in 2015, Lopez worked as an Energy Advisor and Energy Auditor, responsible for working with residential customers and utility representatives, providing technical support regarding the identification, quantification and implementation of energy efficiency opportunities and the processing of associated financial incentives. Lopez is working toward a Bachelor's Degree from the University of Colorado, Denver in Chemistry with a minor in Physics, and will graduate in May 2019.
General Stats
Designated: May 21, 1996
Population: 838,597
Area: 32,307 sq. mi.
Boundary: Counties: Garfield, Grand, Jackson, Larimer, Logan, Moffat, Morgan, Phillips, Rio Blanco, Routt, Washington, Weld, Yuma; City of Boulder
Alternative Fueling Stations
Including public and private stations
Biodiesel (B20 and above): 5
Natural Gas: 15
Ethanol (E85): 21
Electric: 396
Propane: 9
Energy Use Impact*
Annual Energy Impact
Annual Energy Impact by Alternative Fuel Vehicle Project Type
Emissions Reduced*
Annual Emissions Reduced
Emissions Reduced by Alternative Fuel Vehicle Project Type
*2016 DOE-Verified Metrics
Learn about just some of the projects from Northern Colorado Clean Cities Coalition. Visit the Northern Colorado Clean Cities Coalition website for more projects and information.
Projects and Case Studies
Videos

Colorado Leads in Alternative Fuel Use and Public Transit Efficiency

Boulder Commits to Alternative Fuel Vehicles