Northern Colorado Clean Cities Coalition
The Northern Colorado Clean Cities Coalition works with vehicle fleets, fuel providers, community leaders, and other stakeholders to save energy and promote the use of domestic fuels and advanced vehicle technologies in transportation.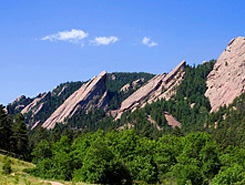 P.O. Box 977
Ft. Collins, CO 80522
Sheble McConnellogue
Sheble McConnellogue was a Clean Cities Coordinator for NCCC when the coalition first began in 1996. Sheble has over two decades of experience in the field of community and environmental health education and environmental transportation planning.
She earned a Master's degree in Urban and Regional Planning from CU at Denver in 1996 and has been involved in sustainable transportation projects in the area for over 12 years. Sheble recently worked for the Colorado Department of Transportation and in this role was responsible for the Planning and Environmental Linkage Program Partnering Agreement that involved the EPA, US Corps of Engineers, US Forest Service, CDOT and many more partners.
Diego Lopez
Diego Lopez is the Co-Coordinator of Northern Colorado Clean Cities Coalition.
General Stats
Designated: May 21, 1996
Population: 875,482
Area: 32,307 sq. mi.
Boundary: Counties: Garfield, Grand, Jackson, Larimer, Logan, Moffat, Morgan, Phillips, Rio Blanco, Routt, Washington, Weld, Yuma; City of Boulder
Alternative Fueling Stations
Biodiesel (B20 and above): 5
Natural Gas: 16
Ethanol (E85): 21
Electric: 348
Propane: 9
Petroleum Savings*
Annual Petroleum Savings
Annual Petroleum Savings by Alternative Fuel Vehicle Project Type
Greenhouse Gas Savings*
Annual Greenhouse Gas Emission Avoided
Greenhouse Gas Emission Reduced by Alternative Fuel Vehicle Project Type
*2015 DOE-Verified Metrics