Northern Colorado Clean Cities Coalition
The Northern Colorado Clean Cities Coalition works with vehicle fleets, fuel providers, community leaders, and other stakeholders to reduce petroleum use in transportation.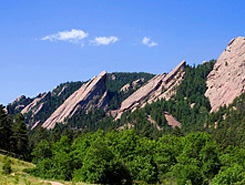 P.O. Box 977
Ft. Collins, CO 80522
Sheble McConnellogue
Sheble McConnellogue was a Clean Cities Coordinator for NCCC when the coalition first began in 1996. Sheble has over two decades of experience in the field of community and environmental health education and environmental transportation planning.
She earned a Master's degree in Urban and Regional Planning from CU at Denver in 1996 and has been involved in sustainable transportation projects in the area for over 12 years. Sheble recently worked for the Colorado Department of Transportation and in this role was responsible for the Planning and Environmental Linkage Program Partnering Agreement that involved the EPA, US Corps of Engineers, US Forest Service, CDOT and many more partners.

Maria Eisemann
Maria DiBiase Eisemann began working for Northern Colorado Clean Cities in early 2011 as their Outreach Coordinator. As the Coalition grew in membership and activity level over the next few years, she was promoted to Co-Coordinator. Eisemann continues to work fostering relationships, opportunities and progress towards the use of alternative fuels and technology and clearing the air in the diverse and promising region of Northern Colorado.
Eisemann has a B.S. in Industrial Technology and a minor in English from Colorado State University. She worked for 7 years at the Environmental Protection Agency (EPA) in Washington DC in the Office of Compliance on air regulatory issues, rulemakings, and voluntary compliance incentives. Before and after working at the EPA, she worked for the National Center for Vehicle Emissions Control and Safety at Colorado State University on the National Tampering Surveys, On Board Diagnostic's research and outreach, and helping to organize the annual National Mobile Sources Clean Air Conference. Eisemann also spent 2.5 years with the US Peace Corps in the Philippines.
General Stats
Designated: May 21, 1996
Population: 875,482
Area: 32,307 sq. mi.
Boundary: Counties: Garfield, Grand, Jackson, Larimer, Logan, Moffat, Morgan, Phillips, Rio Blanco, Routt, Washington, Weld, Yuma; City of Boulder
Alternative Fueling Stations
Biodiesel (B20 and above): 5
Natural Gas: 15
Ethanol (E85): 23
Electric: 175
Propane: 11
Petroleum Savings*
Annual Petroleum Savings
Annual Petroleum Savings by Alternative Fuel Vehicle Project Type
Greenhouse Gas Savings*
Annual Greenhouse Gas Emission Avoided
Greenhouse Gas Emission Reduced by Alternative Fuel Vehicle Project Type
*2014 DOE-Verified Metrics