Northeast Ohio Clean Cities Coalition (Cleveland)
The Northeast Ohio Clean Cities Coalition (Cleveland) works with vehicle fleets, fuel providers, community leaders, and other stakeholders to reduce petroleum use in transportation.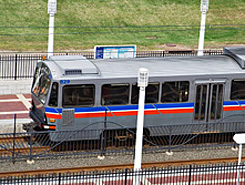 3606 Bridge Avenue
Cleveland, OH 44113

Christina Yoka
Christina Yoka has been with Earth Day Coalition as the Special Events and Marketing Coordinator since August, 2010, and was the 2014 University Workforce Development Intern. She was appointed coordinator of the Northeast Ohio Clean Cities Coalition in December, 2014.
Yoka was the primary logistical coordinator and marketing lead on Earth Day Coalition's annual Earth Day celebration in April and for the fall fundraisers. She completed her Masters of Arts in Zoology at Miami University (Oxford, OH) through the Advanced Inquiry Program. She also holds undergraduate degrees in Environmental Science and Religious Studies from Cleveland State University.
General Stats
Designated: September 14, 1999
Population: 2,770,411
Area: 3,662 sq. mi.
Boundary: Counties: Ashtabula, Cuyahoga, Geauga, Lake, Lorain, Medina, Portage, Summit; City of Cleveland
Alternative Fueling Stations
Biodiesel (B20 and above): 2
Natural Gas: 13
Ethanol (E85): 25
Electric: 166
Propane: 16
Petroleum Savings*
Annual Petroleum Savings
Annual Petroleum Savings by Alternative Fuel Vehicle Project Type
Greenhouse Gas Savings*
Annual Greenhouse Gas Emission Avoided
Greenhouse Gas Emission Reduced by Alternative Fuel Vehicle Project Type
*2015 DOE-Verified Metrics