Greater Indiana Clean Cities Coalition
The Greater Indiana Clean Cities Coalition works with vehicle fleets, fuel providers, community leaders, and other stakeholders to reduce petroleum use in transportation.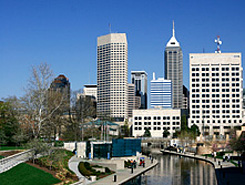 4355 Lafayette Blvd
Indianapolis, IN 46254

Kellie L. Walsh
Kellie Walsh has been the executive director for the Greater Indiana Clean Cities Coalition since 2002. In that time, she has assisted coalition stakeholders in securing over $22 million in federal and state funds to implement alternative fuel projects in both the public and private sectors. The coalition was instrumental in the development and passage of the State Natural Gas Class 8 vehicle tax credit, working closely with State Rep. Randy Frye to create the language and ensure its unanimous passage in both the house and the senate in the 2013 legislative session.
Walsh received an outstanding propane supporter award from the Propane Education and Research Council in April, 2014. She has also been recognized by Senator Richard G. Lugar and Indiana's Lt. Governor Becky Skillman for her work in alternative fuels, especially biofuels. She is a 2007 AFVi Conference Clean Cities Peer Award Recipient and was named the U.S. Department of Energy Clean Cities Coordinator of the Year in 2006 and Mentor of the Year in 2009.
General Stats
Designated: March 04, 1999
Population: 4,900,843
Area: 28,494 sq. mi.
Boundary: City of Indianapolis; Entire state except the following counties: Benton, DeKalb, Elkhart, Fulton, Jasper, Kosciusko, LaGrange, Lake, LaPorte, Marshall, Newton, Noble, Porter, Pulaski, St. Joseph, Starke, Steuben, and Whitley counties
Alternative Fueling Stations
Biodiesel (B20 and above): 5
Natural Gas: 28
Ethanol (E85): 137
Electric: 259
Propane: 133
Petroleum Savings*
Annual Petroleum Savings
Annual Petroleum Savings by Alternative Fuel Vehicle Project Type
Greenhouse Gas Savings*
Annual Greenhouse Gas Emission Avoided
Greenhouse Gas Emission Reduced by Alternative Fuel Vehicle Project Type
*2015 DOE-Verified Metrics