Detroit Area Clean Cities
The Detroit Area Clean Cities works with vehicle fleets, fuel providers, community leaders, and other stakeholders to save energy and promote the use of domestic fuels and advanced vehicle technologies in transportation.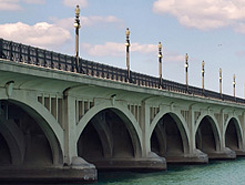 1250 N Main St, Ste 1
Ann Arbor, MI 48104

Sean Reed
As Detroit Area Clean Cities Coordinator and Clean Energy Coalition's executive director, Sean Reed provides strategic planning, leadership, and guidance to the organization and its alternative fuel initiatives. Reed has successfully acquired, managed, and completed more than 30 state and federal grants valued at more than $60 million. Before founding Clean Energy Coalition in 2005, he served as a program developer and energy analyst for the City of Ann Arbor's Energy Office and the joint City of Ann Arbor/Washtenaw County Community Development Department. Reed has also worked for WARM Training Center in Detroit as a program manager, at Grandmont Rosedale Development Corporation; the Olkonorei Integrated Pastoralist Survival Program in Tanzania, Africa; and as an instructor at the Japanese Ministry of Education in Imadate, Japan. He has presented on the topic of energy efficiency at numerous statewide, regional, and national conferences.
Born in Malawi, Africa, Reed has traveled and worked widely, living in Africa, Asia and Europe. He holds a bachelor's degree from Muhlenberg College in Allentown, Pennsylvania, and master's degrees in social work and urban planning from University of Michigan, as well as certificates as a housing rehabilitation specialist and home energy rater.
General Stats
Designated: December 18, 1996
Population: 4,374,477
Area: 3,893 sq. mi.
Boundary: Counties: Livingston, Macomb, Monroe, Oakland, St. Clair, Wayne
Alternative Fueling Stations
Including public and private stations
Biodiesel (B20 and above): 0
Natural Gas: 15
Ethanol (E85): 98
Electric: 724
Propane: 30
Energy Use Impact*
Annual Energy Impact
Annual Energy Impact by Alternative Fuel Vehicle Project Type
Emissions Reduced*
Annual Emissions Reduced
Emissions Reduced by Alternative Fuel Vehicle Project Type
*2016 DOE-Verified Metrics
Learn about just some of the projects from Detroit Area Clean Cities. Visit the Detroit Area Clean Cities website for more projects and information.
Projects and Case Studies
Videos

Michigan Converts Vehicles to Propane, Reducing Emissions

Fisher Coachworks Develops Plug-In Electric Bus in Michigan