Clean Cities Coachella Valley Region
The Clean Cities Coachella Valley Region works with vehicle fleets, fuel providers, community leaders, and other stakeholders to save energy and promote the use of domestic fuels and advanced vehicle technologies in transportation.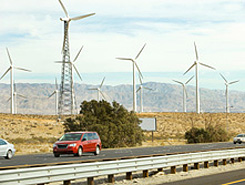 32505 Harry Oliver Trail
Thousand Palms, CA 92276

Sharon Barone
Sharon Barone was appointed director of Coachella Valley Clean Cities in 2021. She is a Project Manager Assistant in the Performance Department at SunLine Transit Agency, supporting the Project Managers in coordinating projects relating to the Agency's zero-emissions efforts. She aids in the continuity and efficiency of the zero-emissions fleet and infrastructure projects by planning the development of the projects, assisting in setting goals, monitoring the progress, and by ensuring that all deliverables are completed as per contractual requirements. Sharon is directly involved in collection and reporting of data to various organizations, pertaining to fuel cell, battery electric, and CNG buses. She is also an administrator for SunLine University, the Agency's employee training program designed to enhance quality of workmanship and strengthen transit knowledge for Agency staff.
General Stats
Designated: April 22, 1996
Population: 510,397 (based on 2021 Census estimate)
Area: 5,190 sq. mi.
Local/Regional Service Area: The Coachella Valley located in Eastern Riverside County, and parts of San Bernardino County; including Twentynine Palms, Yucca Valley, Morongo Valley, Desert Hot Springs, Palm Springs, Cathedral City, Thousand Palms, Rancho Mirage, Palm Desert, Indian Wells, La Quinta, Indio, and Coachella
Alternative Fueling Stations
Including public and private stations

Biodiesel (B20 and above): 0
Electric (charging outlets): 663
Ethanol (E85): 5
Hydrogen: 1
Natural Gas: 20
Propane: 8
Energy Use Impact*
Annual Energy Impact
Annual Energy Impact by Alternative Fuel Vehicle Project Type
Emissions Reduced*
Annual Emissions Reduced
Emissions Reduced by Alternative Fuel Vehicle Project Type
*2021 DOE-Verified Metrics
Learn about just some of the projects from Clean Cities Coachella Valley Region.
Projects and Case Studies