Ann Arbor Clean Cities Coalition
The Ann Arbor Clean Cities Coalition works with vehicle fleets, fuel providers, community leaders, and other stakeholders to reduce petroleum use in transportation.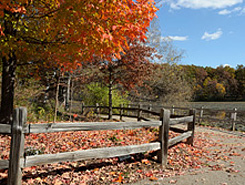 1250 N Main St, Ste 1
Ann Arbor, MI 48104

Heather Croteau
Heather Croteau was appointed Coordinator of the Ann Arbor Clean Cities Coalition in April 2015. She served as Clean Cities intern for both the Detroit and Ann Arbor Clean Cities Coalitions from the fall 2013 through the winter 2015 and became full time at Clean Energy Coalition January 2015.
Prior to joining Clean Energy Coalition, Croteau served as primary research assistant on an interdisciplinary life cycle analysis of shale gas for the UM Center for Sustainable Systems and worked under General Motors' Sustainability Director to develop a business case to support sustainability projects throughout GM.
Croteau received her master's degree in sustainable systems from the University of Michigan's School of Natural Resources and Environment and holds a bachelor's degree in environmental science and multidisciplinary studies from Rochester Institute of Technology.
General Stats
Designated: April 19, 1999
Population: 354,240
Area: 730 sq. mi.
Boundary: Washtenaw County; City of Ann Arbor
Alternative Fueling Stations
Biodiesel (B20 and above): 3
Natural Gas: 3
Ethanol (E85): 13
Electric: 98
Propane: 4
Petroleum Savings*
Annual Petroleum Savings
Annual Petroleum Savings by Alternative Fuel Vehicle Project Type
Greenhouse Gas Savings*
Annual Greenhouse Gas Emission Avoided
Greenhouse Gas Emission Reduced by Alternative Fuel Vehicle Project Type
*2015 DOE-Verified Metrics
Learn about just some of the projects from Ann Arbor Clean Cities Coalition. Visit the Ann Arbor Clean Cities Coalition website for more projects and information.
Also see: